About Us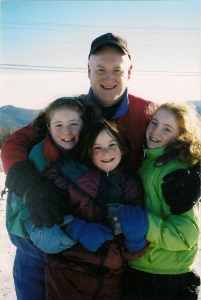 Dear friend,
"I know you." That's what people usually say when they meet me in town. Then they say, "You're Dr Hal. I've seen your ad with that picture of you and those three cute little girls." Well, perhaps I should tell you a little more about that photo, and why I use it in my ads. Let's start with me, the guy in the back.
Thirty years ago something happened to me that changed my life forever. Let me tell you my story.
Back then I was a self-employed painter. One day while working on the outside of a house I took a fall. I did not know it at the time but that fall would change my life. Within two days I had low back pain that was so intense that I could not even walk. It is a very scary thing to be self employed and not be able to walk. I was afraid that my wife and I would lose everything we had if the problem continued for very long. But, there's more…
A friend of mine convinced me to give his doctor a try. I literally crawled through his door on my hands and knees. This new doctor does an exam, and then "adjusts" my spine. The adjustment doesn't hurt, it actually feels good. I got relief. I crawled into the office but I was able to walk after one adjustment. It works so well for me, and I'm so impressed with the other 'miracles' I see in his office, that I eventually go to chiropractic school myself.
Now for Emily, one of the twins in the photo was plagued with asthma. She had to use her inhaler often when she played. She loves soccer and gymnastics and the asthma was really getting to be a problem. After I started to adjust her, the asthma started to subside, and, now her asthma is a thing of the past. She went on to play forward on her soccer team with no problems from the asthma. It may seem like a small thing, but it makes a huge difference to her.
The other girls, Elizabeth the other twin and Danielle the youngest sister, know enough to ask me to adjust them when they feel like they may be getting sick, or often just to stay "tuned up."
It's strange how life is, because now people come to see me with their low back problems. Also they come to me with their headaches, migraines, chronic pain, neck pain, shoulder/arm pain, whiplash from car accidents, backaches, ear infections, carpal tunnel syndrome, asthma, allergies, numbness in limbs, athletic injuries, and TMJ, just to name a few.
Here's what some of my patients had to say:
"Being a firefighter takes a toll on your body. Dr. Hal keeps me at my best. Thanks."(Lonnie Propst) Boone
"An auto accident caused severe lower back pain and sciatic nerve pain; 4 weeks of chiropractic care did what 8 weeks of rehab wouldn't. My pain is gone!" (Cynthia Hicks) Lenoir
"Dr. Hal has done more for my TMJ in two weeks than my dentist did in two years" (Nicole Greene) Boone
You should know that I don't heal anyone of anything. What I do is perform a specific spinal adjustment to remove nerve pressure, and the body responds by healing itself. We get tremendous results. It's as simple as that!
Fifty-nine million Americans no longer have health insurance, and those who do have found that their benefits are reduced. That's where my chiropractic comes in. Many people find that they actually save money on their health care expenses by seeing a chiropractor. Another way to save…studies show that chiropractic may double your immune capacity, naturally and without drugs. The immune system fights colds, the flu, and other sicknesses. So you may not be running off to the doctor as much. This is especially important if you are self-employed. And, an entire week of care in my office may cost what you could pay for one visit elsewhere.